We drive the new Clio RS Trophy to Shek O!
Renault has a history of making great sporting hatchbacks with a lineage of iconic Clios including: the Clio Williams, the mid-engined Clio V6, and enthusiast favourite; the Clio RS172. The outstanding Megane RS has grabbed much of the spotlight from its little brother in recent years, so we were quite excited to see what this 'Trophy' badged Clio can do!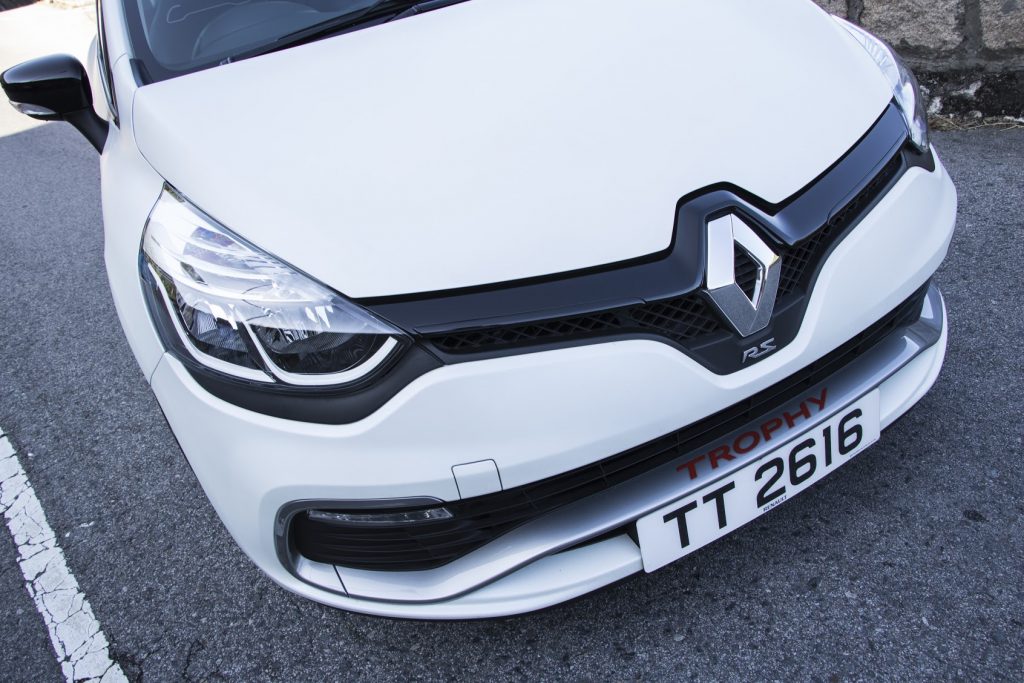 What's the highlight?
Enthusiasts looking for a third pedal will be disappointed as Renault has chosen instead to tweak the existing EDC dual-clutch automatic gearbox for faster shifts. The Trophy does however come with its own trick bits including a re-tuned lower sitting suspension and more importantly, revised intake and exhaust systems to up horsepower to 217hp. You can easily read more in the marketing brochure, so let's move on to how it drives!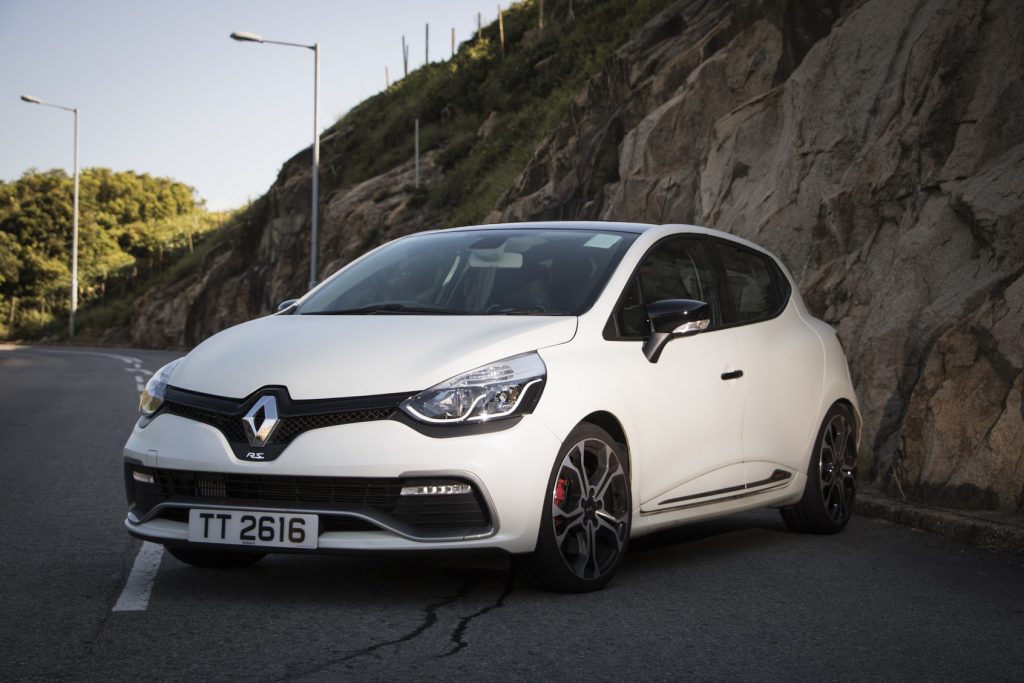 Around the city
We picked up the Clio RS Trophy at Renault's Wanchai showroom before making our way to the twisty roads of Shek O. Around town, you would be hard pressed to notice anything special about this Clio, it is well mannered and the suspension fairly comfortable for a car with sporting intent. Unlike Renaults of the past, the air-con coped incredibly well in the extreme summer heat, and the build quality has come a long way from the earlier generations. This is a car that you can easily live with on a day-to-day basis and I would say, not much different from a VW Polo GTI or Honda Jazz… I'm not sure if this is good or bad thing, so i'll let you be the judge.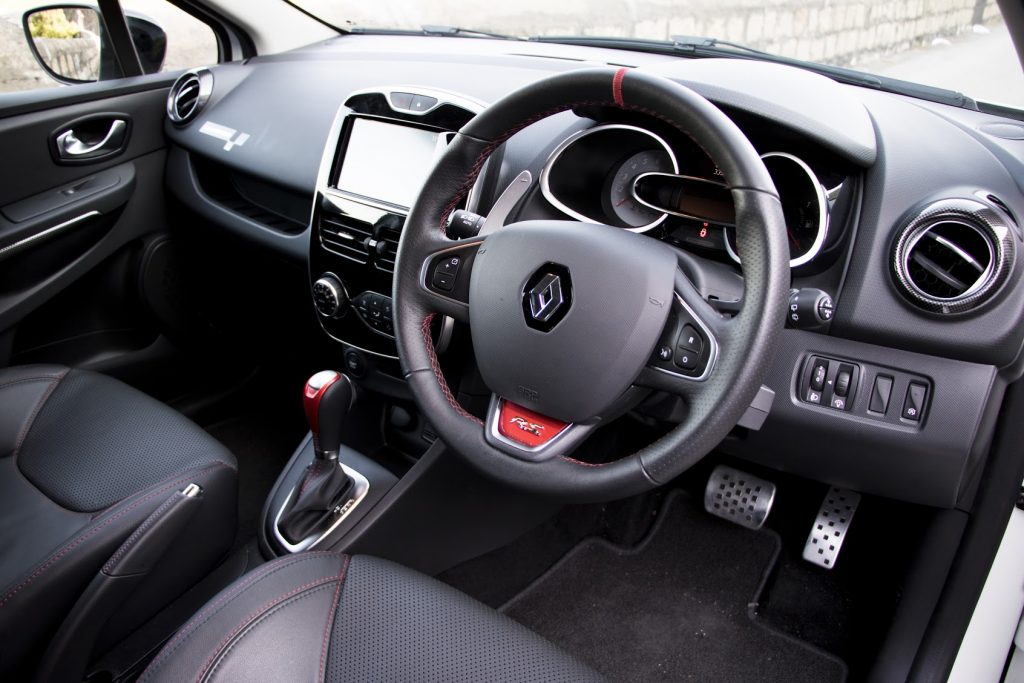 Is it fun?
As we made our way into Shek O Road, we decided to try the 'RS' button. This seem like a common theme amongst sports cars these days with BMW's 'M' button and Honda's new Civic Type R also implementing a 'R' button. We are not sure if the 'RS' button changes the engine map but did notice an immediate difference in the shifting behaviour of the transmission. Shifting points are much more aggressive with downshifts perfectly timed with throttle blips. We particularly liked the pops and cackles as you shift thru the transmission under hard acceleration. Having said that, we are a little disappointed in the power delivery as it definitely did not feel as powerful and torquey as the 217hp and 177lb-ft specs suggest. Perhaps it is a little unfair to call this car slow as the speedometer did indicate that we were making quick progress and this is likely attributed to the smooth and progressive torque curve. I would not have guessed that this was a turbo-charged engine, unless you told me otherwise.
The Clio RS Trophy steered brilliantly with eager turn-in and acceptable body roll. There wasn't much steering feel to speak of but overall it is very well-weighted and easily one of the better ones amongst its peers. We particularly liked the lively chassis with lift-off oversteer easily accessible, without fear of putting the car into the wall. The rear end stepped out predictably with little drama and easily put a smile to our faces. There are no fancy 'designer label' Brembo brakes on this Clio but stopping power is definitely sufficient for the weight and power level of this car. A big brake kit might only be needed if you intend to do some serious lapping at a track but in reality, its really just for bragging rights, I really cannot imagine anyone needing anything more for the street.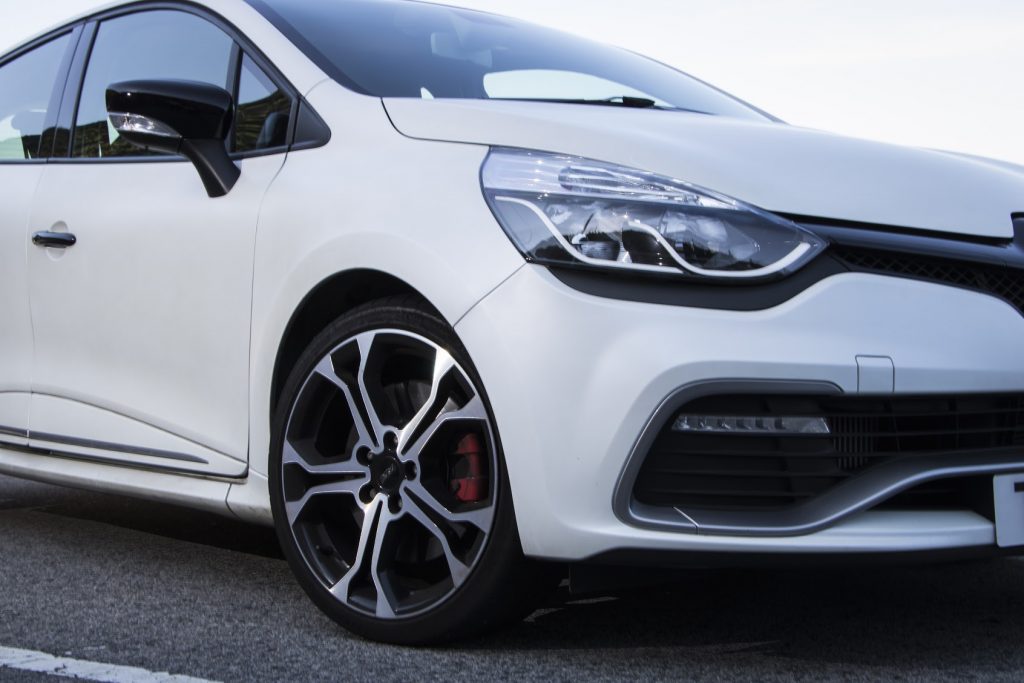 Fun is definitely to be had at every corner and a road like this one is where the Clio RS Trophy  comes alive. For today's standards, it is rather refreshing for a car that targets drivability and fun then outright speed and Nurburgring lap times.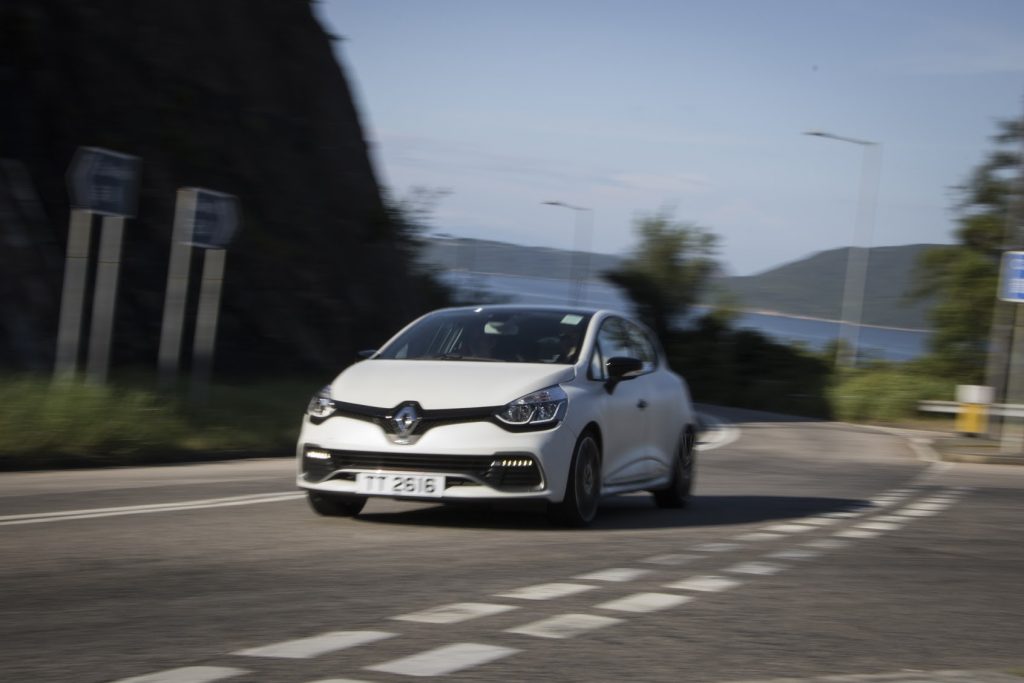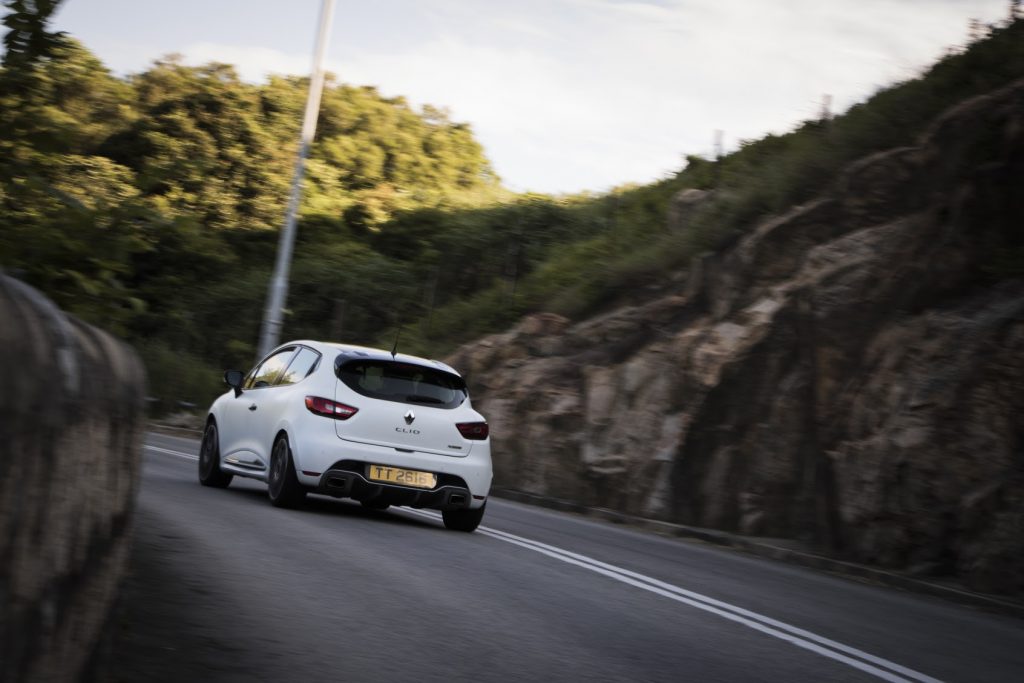 Conclusion
The Clio RS Trophy is definitely a fun car but it has 'grown up' from its early days having struck a nice compromise between hot hatch fun and daily usability. This would be a reasonable choice in a city like Hong  Kong where parking spaces are expensive and you need a car that can do it all. Having said that, we do miss some of that uncompromising quirks from the Renaults of old, would we buy one? Hmm…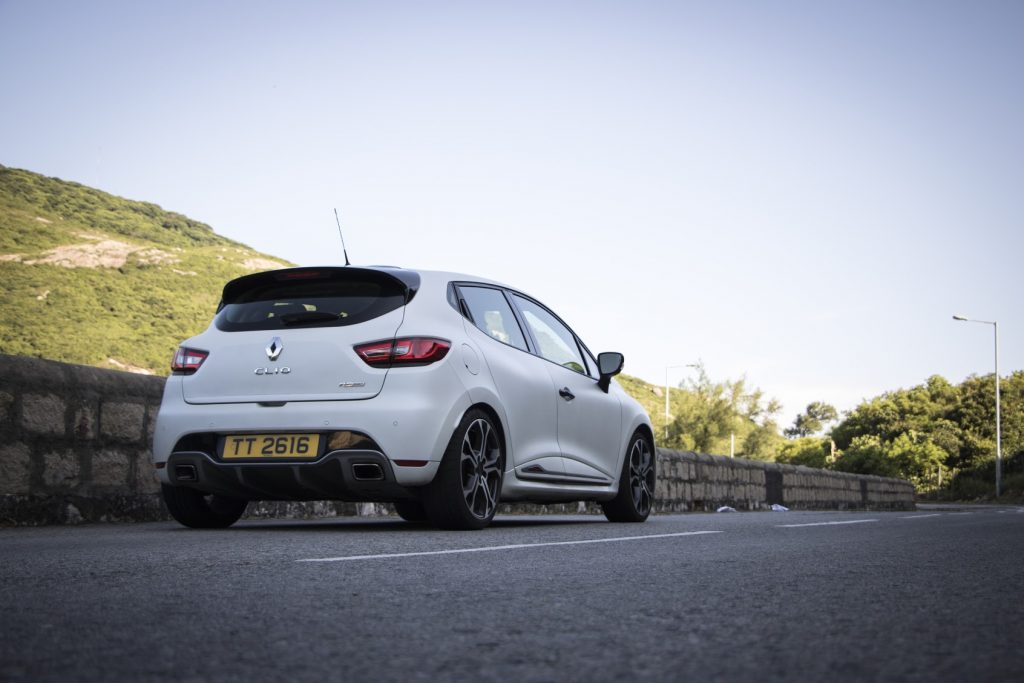 Regular Joe:
'I'm not a big fan of hot hatches but I must admit I was rather excited to test this Clio RS Trophy having heard nothing but good things about the Renault Sport line. While I was a little disappointed with the power compared with more expensive popular hot hatches such as the Megane RS and Focus RS, the Clio RS Trophy proves that fun can be had at lower speeds. This is a car that can be enjoyed at eight tenths easily while still serving as a very capable daily driver. If only they made one with a manual transmission… I'll be first in line.'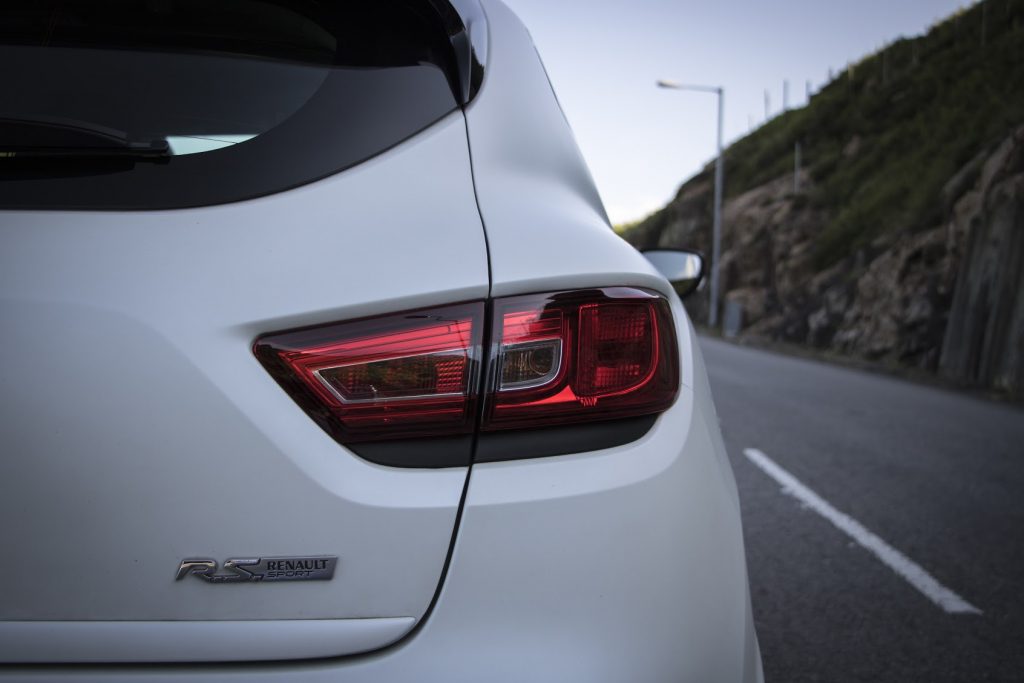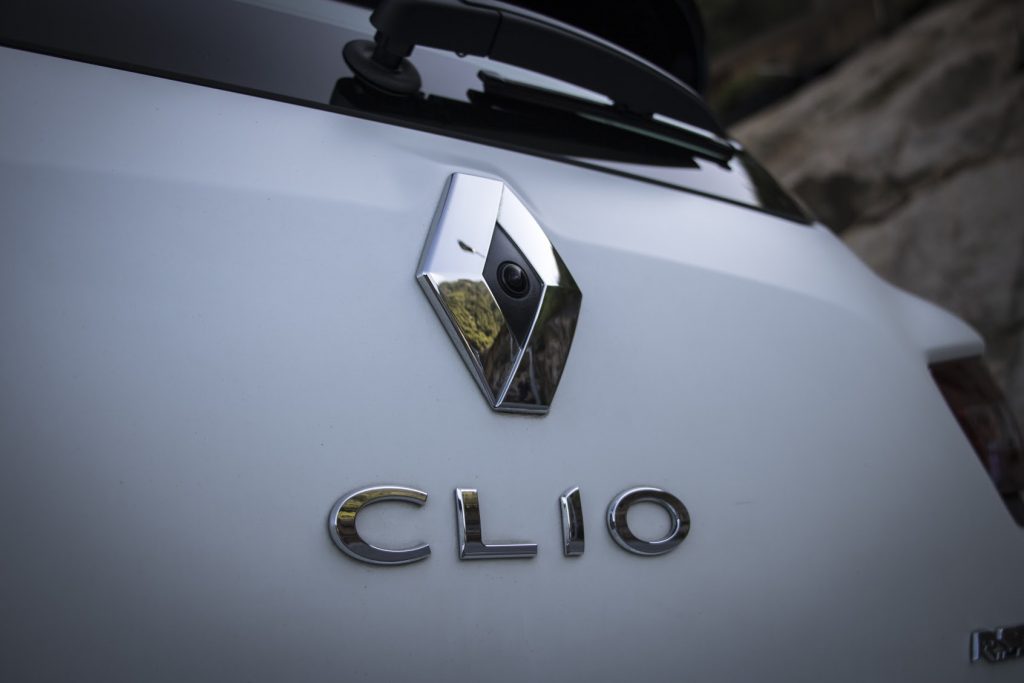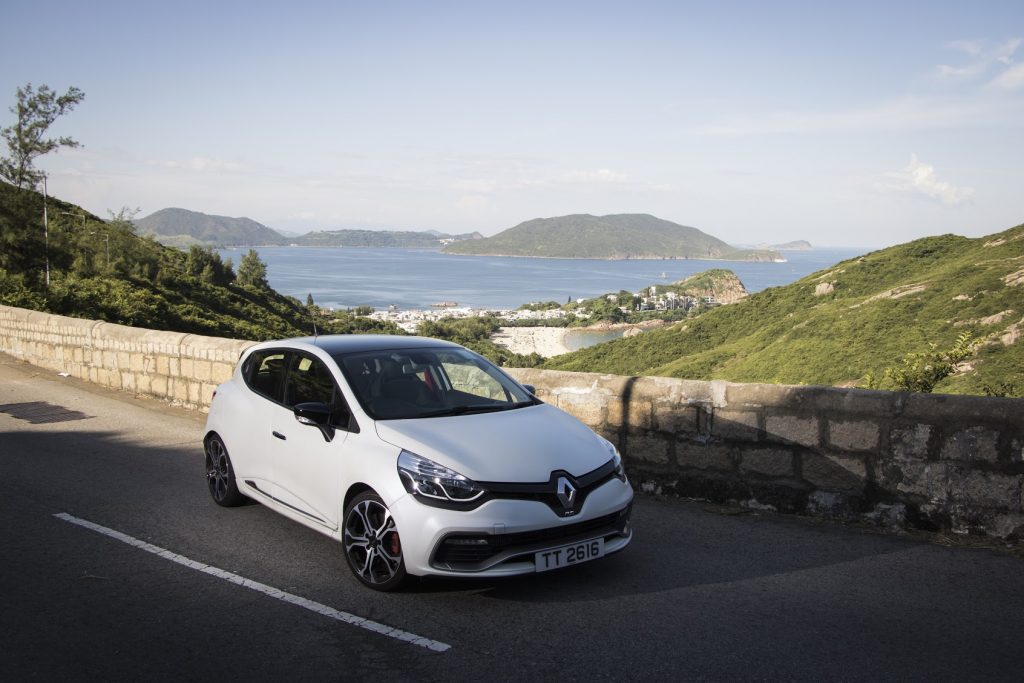 Conrad:
"I like that it looks like a coupe hatchback, yet there are hidden rear door handles by the back window. This allows 4 friends to jump in and out, without me having to physically get out the car and move my seat for the rear passengers. The suspension and chassis finds a good middle ground between performance and comfort. I have the ability to push the car to the engine's maximum limits hunting for lift-off oversteer around the corners, yet, whilst driving daily on unforgiving roads I won't be cursing every time I hit a pothole. What really put a smile on my face was the noise from the exhaust on the up-shifts! The Renault Clio R.S. Trophy is a comfy, easy to drive, and very usable daily hot hatch – a fun all round package."
For more info on the Renault Clios R.S. Trophy view the official site here.
Photos by: Marco Automotive Photography
Check back here regularly for more HK Automotive News & Reviews!
Like our Facebook page to stay updated on all things automotive in Hong Kong!
Follow our Instagram @hkcartrader for the No.1 Carspotting feed in Hong Kong!