Petrolhead Diaries: Renault Clio V6 RS
The Renault Clio V6 Renault Sport; a truly iconic, kooky and utterly marvelous feat of engineering genius. The nutcases at Tom Walkinshaw Racing were the reason why this wide-bodied hatchback exists. An automobile that desires to be thrashed around our curvaceous and pothole-riddened Hong Kong roads. Even from the passenger seat, you can sense the car jolting frantically in all directions. Its imperative that the Clio is treated with respect. Heel toe-ing and running it through the gears is a masterful job on its own. The best analogy to describe the Clio would simply be 'A bull in a China shop.'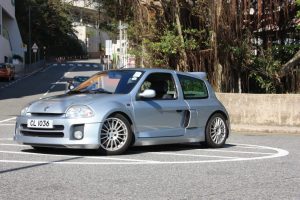 The big-block V6 infused with rear wheel drive car has about the same obedience as an over excitable toddler. Although this quirky car has many hiccups, they are all foreshadowed by it's instant throttle response thanks to the fly-by-wire throttle and the enormous grin that it puts on your face.
Driving this beast isn't exactly something for everyday use. Balancing the clutch in the narrow, steep roads of Hong Kong's Central district is about as hard as balancing a plate on your head while performing heart surgery; it just can't be done. The boot space of the base model has been claimed by the voluminous powertrain. The grease monkeys of Tom Walkinshaw Racing did not have any fable for leathers or intricate stitching. The interior has the chic of a 1200 Volkswagen Beetle falling apart in a scrapyard. The technicians at Tom Walkinshaw obviously had a coffee break when it came to the interior and never returned to the task. The aesthetics of the car are reminiscent of the legendary Group B Rally Car, the Renault 5 Turbo.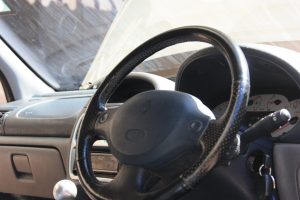 The dominating feature when driving it is that the engine feels like it is directly bolted to your spine. The car wags it's tail more than you like it to, predominately in the tight twisty corners. Everytime I look at the flared front bumpers, bigger air intakes and the multi-spoke 17'' wheels just remind me of how mental and abnormal this car really is. The V6 doesn't sing like a Ferrari or rattle like a mark one Lotus Exige.. no! the noise was perfectly tailored to fulfill every petrol head's dream.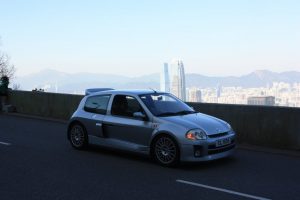 To wrap up, the Clio V6 Renault Sport is a car that only appeals to a true petrol head, the kind that think of engine noises when they wake up. It's not a bedroom wall poster car, like a Lamborghini Diablo VT, or a Ferrari Daytona Spider but for those who have owned one, it will be forever in the back of their heads. I imagine in the near future this little monster of a car will be noticed for what it is; an enthusiast's fantasy.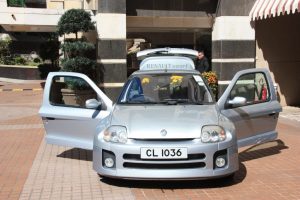 Written by: Freddie Ziegenbein
Check out Freddie's great Instagram: @hongkongexotics and @thescene_hk