Used Car. Hong Kong. English and Chinese language
Buy your next used car through hkcartrader.com! Our massive online used car database has over 15,000 used car classifieds to choose from! HK CAR TRADER is a FREE used car platform, connecting English and Chinese marketplace together! Buy your dream used car by contacting the owner directly for the best possible price. Our competitors like Asiaxpat and Geoexpat claim to be free, but actually charge you a few hundred dollars per listing! Not only do they charge you, your listing will get bumped down the list every time a new listing is created!
Need to sell your car fast? Consider upgrading your listing to Premium! We will publish your car in The Standard newspaper, Share it on our Facebook page as well as other groups and share it on our Instagram page! Read more about it
here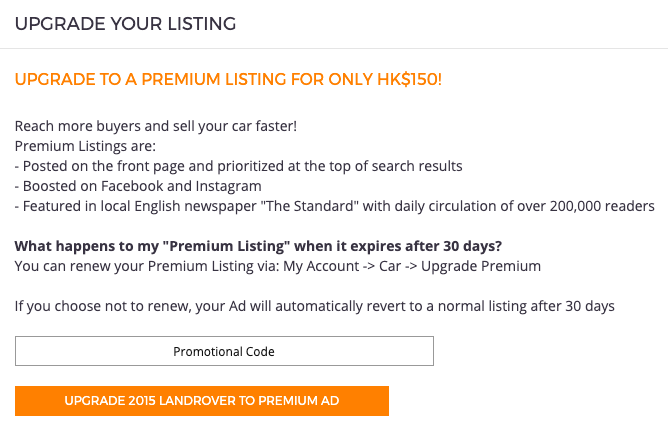 If you have a second hand car for sale, you can use our Hong Kong service to post an online car listing. Fill out our simple, easy to use form including the car make, model, mileage, year and location. Be sure to upload some high quality images showcasing your car, leave your contact details and wait for potential interested buyers to call or whatsapp you directly!
We have many cars in excellent or almost new condition available for affordable prices. We mostly feature BMW, Audi, Mercedes Benz and Porsche. However, we also specialise in rare and exotic cars like Ferrari. HK CAR TRADER is run by car enthusiasts meaning you can give us a call or shoot us an email and our car specialist will help and guide your needs to find you a great used car!
Whether you're after a family car, sports car or a stylish vintage car, we have the car for you. Our online car platform allows you to filter the database to your specific search criteria; saving you time and preventing you from aimlessly browsing through hundreds of used cars.
We are now offering affordable finance and pre-purchase car inspection! Just give us a call or send us an email or whatsapp and we'll respond to you within 2 hours!